ANNOUNCEMENT!
Dear Sir/Ma,
With all sense of enlightenment, we hereby announce to you that our weekly enlightenment program continues with the topic:
"SYNERGIES AND DISTINGUISHING SURVEYING AND ALLIED PROFESSIONS"
GUEST: SURV. (ALH.) KAZEEM ADEYINKA SANNI, mnis (RETIRED CHIEF SURVEYOR OGUN STATE HOUSING CORPORATION)
On Fresh 107.9 FM (Yoruba) EVERY MONDAY 12:30 pm to 1 pm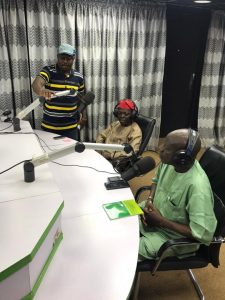 You can follow the program live on this Facebook page @ "FRESH 107.9 FM Abeokuta", click on live
You can also call ☎️ into the program via 08154321079 & 08181111079 to make your contribution, as we enlighten the public more about the Surveying profession.
Please, be assured of our utmost regards always.
Announcer
SURV G.O.T. TAIWO, MNIS
INFORMATION COMMITTEE SECRETARY